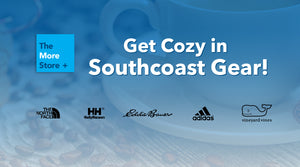 Welcome to The More Store!
Southcoast Health is proud to offer award-winning care and exceptional service to our patients and the community. And now we are providing everyone with even More opportunities to show your pride for Southcoast Health!
Whether you are an employee, patient or proud supporter of Southcoast Health we make it easy for you to show your Southcoast pride. From clothing to accessories to home products, the More Store has everything you need. Just click, confirm and ship directly to your home.
Providing you with More ways to display your Southcoast Health pride. That's More than medicine.